Declan Ryan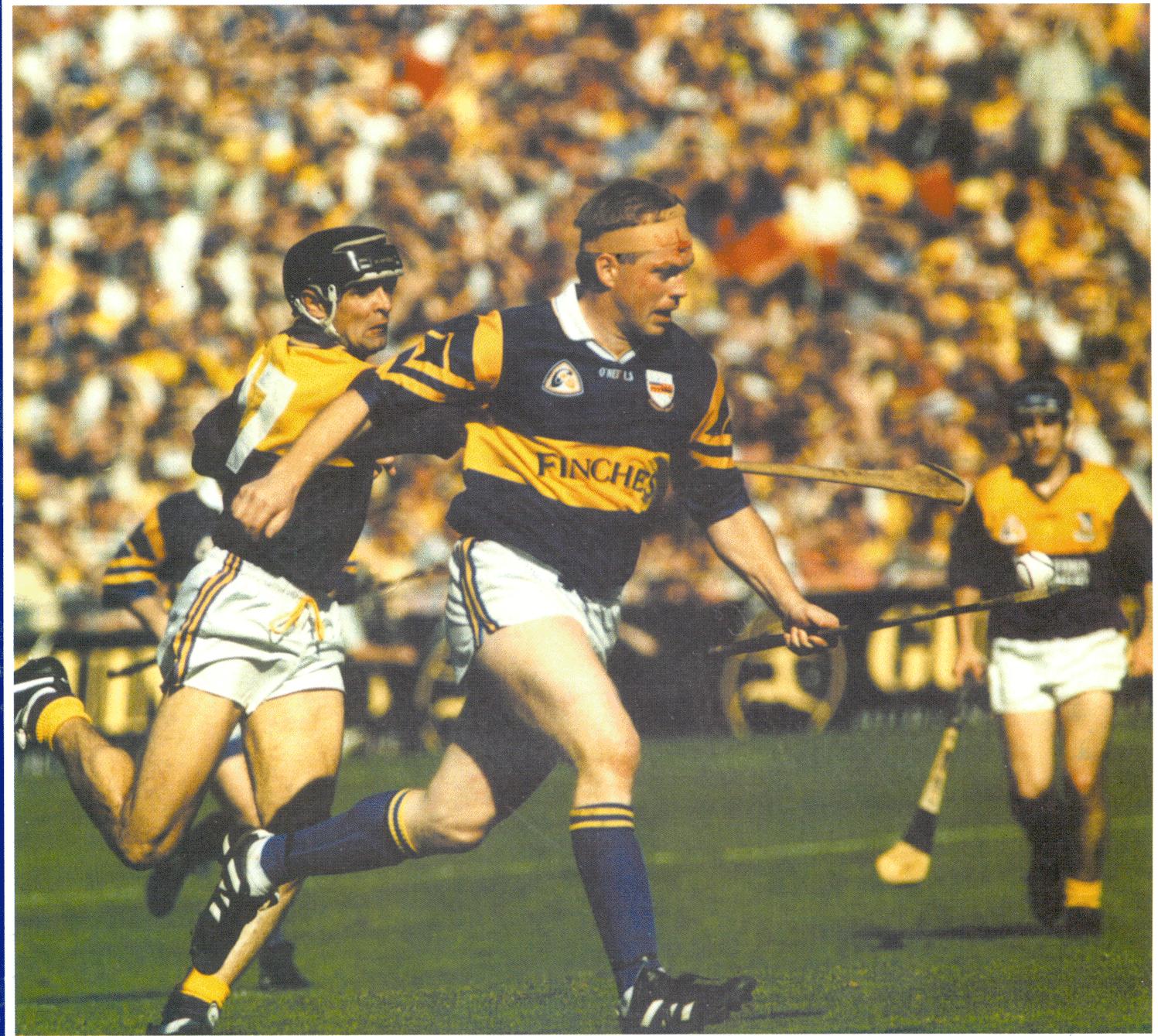 With the last hurling championship of the 20th century completed, Network 2's ''Breaking ball'' programme asked Liam Griffin, Nicky Brennan and Eamonn
Cregan to select their team of the decade. The selection was announced in October and included Declan Ryan at full forward. It was deserved recognition for one of Tipperary's quieter stars of latter years. The placing of the burly Clonoulty man at number fourteen raised an eyebrow or two
Because the bulk of his hurling has been on the half line. His inter-county career began at full forward when he marked Limerick's Leonard enright in the first round in Pairc Ui Chaoimh. Tipp won comfortably that day, with Declan scoring his first championship point, but more importantly it marked the launch of his career that would harvest three All-Irelands, five Munster finals, three National leagues, two All-Stars and a host of other honours. In the History of Tipperary hurling for the past dozen years or so Declan's role has been pivotal.
It has all been a long journey from Ballymore and the early tentative steps to hurling stardom. From Cashel C.B.S to Thomastown Vocational School in Kilkenny with whom he won an All-Ireland title beating Borrisokane in the Final. The talent was genetic, his father Tom, a native of Aherlow, having played SeniorfootballforTipperary with 'Babs'Keating and his Uncle T.J Butler winning an All-Ireland U21 hurling medal with Tipp in 1964 - as a full forward incidentally. Aidan Butler is T.J's son. Declan was first noticed in the mid eighties being on the Tipp minor football panel of '85 and playing both county minor hurling and football in1986, though without success.
Interestingly football would have been the inherited game from his father and in a different county that might well have been his future. In Tipperary he played countyU21 Football in '88 and '89 but never stepped up to senior because the hurling had taken centre stage. In common with others like Nicky English and John Leahy it's often claimed that he would have made the grade as successfully at football as hurling. Standing at 6ft. 1 inch and weighing around 13 stone at his peak he certainly had the physique for the big ball game. In more recent years he shyly admits that the weight has slipped up to 15 stone and in this winter he is reluctant to put a figure on it.
His shyness and reticence hides a depth of character, a deep down substance that Nicky English is quick to highlight. Others too have noticed the brain behind the brawn. Former All-Star, Paddy Kelly, describes him as 'A thoughtful center-forward, always measuring and reading things….as essential to the likes of Fox and English as they were to him.. outstanding skill level…. Central to Tipperary in the past ten years.
Listing off Declan's trophy collection is the same as listing Tipperary's since 1988: a league medal '88, Munster senior medals from '88,'89,'91,'93 and 2001, further leagues in '94, '99 and 2001 as well as Oireachtas, South-east league and Railway Cup. The all-Star statuettes of '88 and '97 are prized possessions too as is the Cidona award the latter year. Special too is the All-Ireland U21 of '89 where he captained Tipp. On the club scene there has been many successes too, capped by county senior titles in '89 and '97.
On the Question of his most admired opponents Declan readily names Seanie McMahon and Jim Cashman. He has high praise too for Cappawhite's Thomas Costello whom he found tricky to handle at club level and he also has high regard for fellow Clonoulty men Joe Hayes and John Kennedy whose example and influence played an important role in his development as an inter-county player. Others who have won his admiration are Tony Doran, whose courage he singles out and Pa Fitzell of Cashel. The '91 All-Ireland semi-final stands out as his most memorable: ''That was our first meeting since the Keady affair and there was something to prove. It was a great win for us, ''Other games that stand out in his life as a highlight include the league final of '94 where he scored 2-1,the Mnster replay of '91 and 1990 game with Limerick where he won man of the match.
Declan a rep for Norbrook Lboratories, plays golf of a 9 handicap at Dundrum and he and his wife Olive have two sons. Declan's selection on the team of the decade, choosen by two Leinster men and a Limerick man, reflects his high standing nationally. Perhaps at times he has been given less credit within Tipp. Maybe like many great hurlers his true worth will only be appreciated when he finally hangs up his boots. - J.J Kennedy
Classy, Skillful,Elegant,Graceful. These are just some of the typical adjectives that trip off the tongue when people recall the hurling of John Kennedy. Together with Declan Ryan and Joe Hayes this threesome scaled the heights to All Ireland honours and in the process gave their club a profile unmatched since the time of Tony Brennan.
John Kennedy's senior inter-county career was brief and broken. Yet, at his best, his hurling had an artful quality that drew the admiration from tem-mate and opponent alike. In racing parlance he was a classic thoroughbred. Sleek and slim line he was a sweet striker left or right with beautiful balance. All he lacked was durability, in part caused by susceptibility to injury which interrupted his career at crucial junctures.
In his early years he was part of a successful Clonoulty juvenile crop that eventually graduated to capture the club's first ever county minor title in 1981. That was a side coached by Borrisoleigh's Timmy Delaney, then teaching in Ballagh, and contained many names that would eventually carry the colours to higher honours. The previous year John won an All-Ireland colleges 'B' title with Cashel C.B.S and already the silky talents were in evidence.
That minor win in 1981 earned John Kenendy a unique distinction in 1982 when he captained Tipperary to an All Ireland minor title. It was the county's second win in three years and further evidence of a resurgence that would eventually hit the big time at senior level in 1987. In the All-Ireland U21 final Kennedy formed an all-Clonoulty midfield partnership with Joe Hayes,but the side once more lost to Kilkenny. It was third time lucky for Kennedy at U21 level when he finally secured an All-Ireland medal in 1984. The team beat Clare in the Munster final and were back in Walsh park Waterford for a final tilt with Kilkenny. It was tough going but held out in the end for a one point win, 1-10 to 2-6. He now had minor and U21 All-Ireland medals - only the senior remained to complete the coveted career collection.
John was inevitably going to progress to the senior ranks for the County. He was a sub at Ennis in 1986 when Tipp lost to Clare. It would be May of 1987 when finally Kennedy finally played his first game with the Tipp seniors, a challenge match against Kilkenny in Cashel. 'Babs' was now in charge and when a line-out for the first round of the championship, versus Kerry at Killarney was chosen, John Kennedy was listed at wing back. It was his championship debut.
In early 1989 Kennedy broke his finger and lost out to Conal Bonnar for most of the championship. He watched from the subs bench as Tipperary again ruled Munster and then finally turned the tables on Galway in a controversial All Ireland semi-final. Ironically the controversy handed the Clonoulty man the greatest 'break' of his career, a career which had many hard luck twists. After the Keady affair, an issue had arose over the eligibility of Paul Delaney who had also played on foreign soil. In the circumstances Tipp decided prudently to omit the Roscrea man and in came kennedy for an All-Ireland Medal versus Antrim. A lucky break for sure, but deserved over the span of a career that had more than its share of ill-luck. By now John Kennedy had completed his collection of All Ireland Medals.
John won another All-Ireland medal in 1991 but was unable to retain his place due to injury. Shortly after the All-Ireland John Kennedy played his last game for Tipperary in the spring of 1992, when he traveled to Ballycran to play Down in the league. An injury to the other knee shortly afterwards. Knocked him out for the 1992 season and that was the end of his inter-county career. There was one famous last hurrah with his club when in 1997 he was on the team that beat Mullinahone in the County Senior final. Kennedy was at left wing back and by general opinion did a good job on Paul Kelly. John Kennedy's last game with his club was the Munster championship match against Patrickswell following the Co. final win that year.
Always a stylish player with an array of textbook skills at his disposal, John Kennedy was one of the most admired Tipperary hurlers of his generation. He loved to solo run, something that often left him vulnerable to injury. John was a consummate hurler admired by all who appreciate class in a player. At present he works with Tom Hogan Motors in Clonmel where he has been since 1999 following ten years with the bank Of Ireland. - J.J Kennedy
The revival of Tipperary's hurling fortunes brought a new generation of hurlers into focus, many of them from the west division. Joe Hayes was part of the revival, an intermittent part admittedly, frequently substituted, but always colourful and often playing an underestimated role.
Joe was a central component in the Clonoulty juvenile upswing in the seventies. 1980 was big year, helping Cashel C.B.S to an All-Ireland B Colleges win and winning the coveted All-Ireland minor hurling medal when Tipperary defeated Wexford by 2-15 to 1-10 in the final. Joe was mid-field in that success, partnering Philip Kenny (Borrisoleigh) and scoring a valuable 4 points. A year later he helped Clonoulty/Rossmore to a County Minor final win, there first ever.
After success at county minor level Joe was unlucky at U21. He played on two losing All-Ireland final teams. In 1983 he partnered Liam Bergin at midfield when the side lost by three points to Galway in Tullamore. A year later it was an all Clonoulty partnership at mid-field with John Kennedy, but Joe had to be satisfied with his Munster medals.
Senior promotion came with 'Babs' .At the start of the '87 championship he was introduced as a substitute against Kerry in the first round and when it came to the replay against Clare in the provincial semi-final he was partnering Colm Bonnar at midfield. The 'Tipperary Star' reported on the occasion: 'Debutant Joe Hayes, confident from the start, grew in stature as the game progressed''. For the Munster final he was again named at midfield and played well that day in Thurles before retiring injured near the end. For the epic replay in Killarney he was again on the substitute bench.
In 1988 Tipperary had qualified for the league final against Offaly and Joe hayes and Colm Bonnar were now performing a regular partnership. The final was in Croke park and the team captained by Pa 'O Neill won an impressive victory. The Tipperary star reported ''Joe Hayes at midfield and goalkeeper Ken Hogan were others to press for top billing''. Culbaire was more complimentary of Joe '' Attacking eagerness was immediately noted as Joe Hayes led in the provision of low, good ball and forward play stretched Offaly defence to both flanks……Hayes' blistering first half at midfield was a great source of Tipp's fast start and sizeable lead-he hit an immense amount of ball from many places''.
Joe Hayes went on to win an All- Ireland medal with Tipperary in '89. They defeated w Limerick in the first Joe amongst others was listed as the 'Foundation' for Tipp success that day. In the final against Waterford Joe was a solid performer at number eleven. Joe started against Galway in the semi-final but was substituted by John McCormack of Loughmore. It was a stormy game but Tipp won though to meet Antrim in the final. Joe was on the bench for the final but as Tipperary strode to a comfortable win he was introduced for Cormac Bonnar.
The 1990 championship campaign saw Tipperary beat Limerick and then fall surprisingly to mark Foley and Cork in the Final. Joe Hayes was at mid-field on Both Occasions. In the fall of the year there was an individual highlight for Joe when he captained Tipperary to an Oireachtas final win over Galway. The game was played in Ennis on November 11th and Tipp won by 1-15 to 0-7.
For the 1991 championship bid he again started at mid-field. Tipp beat Limerick and then had those two epic games with cork. Joe was substituted in the drawn match , replaced by Aidan Ryan, but again had played his part according to 'Culbaire' :''Hayes was the better of our midfielders, having a fine first half''. For the replay at Thurles he started on the bench but was introduced for John Madden. Likewise in the All-Ireland semi-final Joe Hayes was introduced as a substitute this time for Ger O Neill. The Clonoulty man collected his second All-Ireland medal when Tipp beat Kilkenny in the final but he viewed the game from the dug-out.
There was one major highlight left in Joe Hayes inter-county career. In May 1994 Tipperary played Galway in the League final in Limerick and won by 2-14 to 0-12. Joe was partnered by Pat King at midfield that day and the Tipp star had this to say about his display ''Joe Hayes and Pat King outplayed the highly rated Galway midfield partnership of Micheal Coleman and Pat Malone to a degree that alarmed Galway Supporters''. It was a second national league for and very much a last hurrah for him with the county. Tipp to Clare in the championship that summer, Joe Hayes was missing that day due to injury.
On the club front Joe Hayes was a central character in Clonoulty's 1989 county win though he missed out on their success in 1997 before making a comeback in 1998. His job as Garda has brought him to Monaghan where in 1997 he took the county to an All-Ireland junior hurling title as player-manager. Joe Hayes' medal collection includes two All-Ireland S.H., All-Ireland M.H. & J.H. - thoseU21 defeats deprived him of the full collection. He has five Munster S.H. medals, two leagues and an Oireachtas. It's a hugely impressive hoard of silverware.- J.J Kennedy

Unlike the other players mentioned above Aidan's contribution to Tipperary Hurling hasn't been to as grand a scale. On the county scene Aidan was a late bloomer.He hidn't make the county minor grade in '92 but put that right when he hurled U21 for the County two years running in '94 and '95. It was the latter where Aidan enjoyed his success. He had played all year at centre-back, a position he had become accustomed to while playeing there for his club for many years. However Aidan suffered a period where he was out off form leading into the All-Ireland.Come All-ireland final day Micheal Doyle the Tipperary manager switched Aidan to midfield.Tipp played Kilkenny that day and won with Aidan having an excellent game contributing a large aount to a Tipperary victory that day.
Aidan's senior debut came with the county in 1996 againist Kerry in the Munster semi-final down in Tralee when he came on as a substitute. Tipp won that day for a place in the Munster final but were beaten by Limerick. Aidan didn't appear that day. The following year Len Gaynor was the manager and started Aidan center field beside John Leahy against Limerick in Thurles. Aidan hurled well that day and Tipp won for a place in the Munster final against Clare. On Munster final day Aidan was marking Ollie baker at mid field and in many peoples view broke even with Baker however Tipp were beaten that day by a superior Clare team by 3 points.
Tipp went through the back door system that year and played Down in Clones. Aidan came on in the second half and gave a very good account of himself and Tipp went on to an easy victory. Aidan didn't appear for the rest of that campaign and Tipp eventually fell to Clare again in the All-Ireland final. In 1998 Tipp's first round game was against Waterford in Cork. Aidan started at center back that year on the highly rated Ken McGrath but although Tipp were beaten that day Aidan gave a very solid performance.
In 1999 Nicky English took over the senior team. Aidan played in a challenge game against Limerick in Portroe where he broke his hand that evening and was out for at least 3 months. Aidan didn't feature anymore for Tipp that year. Aidan came back in 2001 to the Tipp panel for the Munster final against Limerick where Tipp won. He came on in the second half against Wexford in the replay of the All-Ireland semi-final giving a good display. Tipp reached the All-Ireland final winning it , alas Aidan didn't feature that day but can boast a much coveted All-Ireland hurling medal.
I think's its fair to say that Aidan's club career has been more steady than his county career. Aidan started his club career in 1993 at wing forward, the following year he moved to center back where he has stayed to present day. The highlight for him so far has been the clubs county final win over Mullinahone in '97. In the final that day Aidan was marking Brian O' Meara currently hurling with Tipp. Aidan gave a top class performance that day. Aidan has been arguably the best club hurler in Tipperary over the last number of years and is highly regarded by his peers.Keep it going Aidan! - Nollaig Heffernan
The team that can boast of a good full back can afford to weak in several positions on the field. He is the keystone of the defence and on him rests the onus of protecting his goalie from encroaching forwards. He has the whole field ahead of him and if he is a shrewd general he can do quite a lot to knit his defence into a work manlike unit, as he is in a position to see the weak points outfield and can suggest remedies. Tipperary has always been fortunate in the matter of good full-backs….The present occupant of that most onerous of positions, Tony Brennan is in the beat traditions of Tipperary last line defenders. Tall and commanding, strong and fearless, with sure hands and hurling brains to burn, this lithe, sinewy Clonoulty Skipper has filled the position with credit to himself, his parish and his county''. This extract, taken from a profile on Tony Brennan published under the pseudonym ''Prefect'' in the 'Nationalist'' on January 21st 1950.
James Anthony Brennan was born in Clonoulty on Jan 13th, 1916 to James Brennan, who originally came from Boyle Co. Roscommon and Kate Byrne, of Coolanga, Clonoulty. Tony began swinging a caman as soon as he was able to walk, but his career as a hurler was almost terminated when he fractured his skull at the age of 12. After spending three weeks in hospital he was up and about and carried the mark of this injury on his crown until the day he died.
Tony's interest in hurling is unremarkable. His uncles, on his father's side, were outstanding athletes in their day, and from his mother he must have inherited his hurling prowess, for she was the sister of Phil Byrne, Coolanga, who won four All-Ireland medals, three with Tubberadora in 1895,1896 and 1898 and one with the Horse&Jockey in 1899. Another brother Tom Byrne won two All-Ireland Football medals with Dublin in 1892 and 1894. Unfortunately Phil Byrne lived to see only one of his nephews All-Ireland triumphs as he died in 1946.
No record exists of Tony's deeds with Clonoulty at Juvenile level and, as he was a quiet, unassuming man he revealed little of his exploits on the hurling field, even to those who knew him best. Anthony's hurling really began to blossom in Thurles C.B.S under the tutelage of such as Brother Lynam and Brother O'Brien. In 1930 he was a member of the Dean Ryan Cup Team and was full back on the team that won the first ever Harty Cup for Thurles C.B.S in 1933, beating North Monastery of Cork in the final. Tony's final year of secondary school took him to Rockwell college where he won a cup and gold medal for being and outstanding athlete in 1935. That same year he played for the college's Harty cup team that as beaten in the final by North Monastery who won four Harty Cups in a row from 1934 to 1937. At that time the All-Ireland colleges' championship was played on an Inter-Provincial basis and Tony was selected for Munster on four occasions from 1931 to 1935.
Tipperary had twice in a row won Munster Minor hurling titles from 1930 to 1935 and from 1952 to '57. Tony was a member of the team that won the Munster and All-Ireland honours in 1933 and '34, playing at full back. His senior hurling career with Clonoulty began in 1932 at the tender age of 16 years in what was a glorious era for hurling in Clonoulty. The club won the first four west finals from 1930 to 1933 and Brennan was part of the team in 1932 and '33. In 1934 Clonoulty's stronghold on West Tipperary hurling was broken when Cashel won the west final and by '36 the club was back hurling at junior level. Tony was part of the team the won the west junior final of that year but he was not to hurl for his native parish again until 1945.
In 1937 Tony joined the Irish speaking Battalion of the Army and was stationed at Renmore in Galway for eight years. While there his club team won the Galway junior championship and was a member of the Galway junior team that won the Connaught championship. The following year he was a member of the senior team and played with them in all their engagements until he returned to his native Clonoulty in 1945. On returning Brennan was chosen to play at centre forward in the first round against Waterford and Tipeerary won by 3-6 to 0-3. He was again at centre forward against the Cork side that had won four All-Irelands in a row. Tipperary won by 2-11 to 3-2 with Brennan contributing 0-2. Tipperary went on to beat Limerick in a memorable Munster final on July 15th with Brennan again at centre forward. Tipp reached the All-Ireland final and faced Kilkenny and for this tie Brennan was moved to full forward. A crowd of 64,459 attended Croke Park that day on Sept 2nd to see Tipperary win on a score line of 5-6 to 3-6 with Brennan contributing 1-2. In 1949 Brennan filled the full back position and eased the selectors worries. That year Tipp beat Cork in the National League final by 3-5 to 3-3. It was their first since 1928 and Brennan excelled at full back. Tipperary overcame Limerick in the Munster final that year by 2-8 to 1-9. They had two easy victories over Antrim and Laois respectively. Tipperary won the Oireachtas final by beating Laois on a score line of 2-8 to 1-6 and Brennan collected his second Oireachtas medal. Tipperary put two league titles back to back in 1950 with Tony again at full back. In 1951 Tony collected his fourth All-Ireland medal by defeating Wexford by 7-7 to 3-9.
However the year wasn't over yet for Brennan, exactly a fortnight after that All-Ireland win Tony captained his beloved Clonoulty to victory in the west senior hurling final against Kickhams on the score 3-2 to 0-3. Despite the rigours of a hard All Ireland campaign Tony gave an outstanding display at centre back to inspire his team to its first west final win in 18 years. Clonoulty-Rossmore went on to cause a huge upset by defeating the highly fancied Borrisoleigh team powered by players such as Jimmy Finn and the Kenny Brothers Sean and Pat. They beat Borrisoleigh by 3-7 to 1-8 in Thurles on Oct 21st. Tony's remaining ambition in hurling, to win a county title with his club was dashed in no uncertain terms by Holycross on Nov 6th, when they routed a Clonoulty-Rossmore side that failed to live up to its expectations in the final. The final scoreline, 5-15 to 1-4 emphasised the gulf between the teams on the day that even the presence of Brennan could not bridge.
To crown a glorious year Tony won his one and only Railway cup medal on St.Patrick's day when Munster defeated Lenister by 4-9 to 3-6.Tony one his third and last National medals in 1952 by defeating Wexford with a last minute point from Pat Stakelum. In 1953 Tipperary reached the Munster final only to loose to Cork by 3-10 to 1-11. This marked the end of Brennan's inter-county career that spanned fourteen years at senior level. Tony played against many well known figures and regarded Jack Lynch (Cork), Jackie Power, Mick Mackey and Paddy McCarthy (Limerick), John Keane (Waterford) and Nicky Rackard (Wexford) as the best players he encountered during a full score years on the hurling fields.
It has been said that only the good die young. So it was for Tony Brennan. On November 4th, 1965 Tony and his father in-law embarked on a shoot from which Tony was not destined to return alive. He had borrowed a shotgun from a neighbour that had a defective catch. While changing the gun from one hand to another to put a pheasant he had just shot into his bag, the firearm accidentally discharged bringing the life of this Tipperary legend to a premature end. Grief and disbelief seized the community as the news of his death trickled. His funeral was one of the largest ever seen in Clonoulty village as neighbours, friends and hurling colleagues and opponents of yesteryear including the great Nicky Rackard of Wexford came to mourn the passing of the giant of the ash. The 'Tipperary Star'' ran a competition to select the Tipperary Team of the Millennium. Tony's final accolade was to be a posthumous one as he was selected at full back this team by the popular vote of the people of Tipperary, an honour he would have deeply appreciated. I measc na naoimh is na n-aingeal go raibh a anam uasal - Francis Kearney.

Home | History | Gallery | Links | Location | Juvenile Club | Player Profiles | Roll Of Honour | Fixtures | Results